---
The Rex Ross WebSite commissioned the The American Institute of Architects to organize and
conduct a Sandcastle Contest at Galveston East Beach on June 4, 2005.

Photgraphers were then dispatched by the Rex Ross Web Site to capture the contest entries.


---

Fans of the Rex Ross Web Site came from far and near.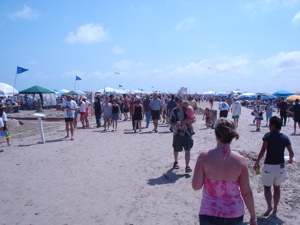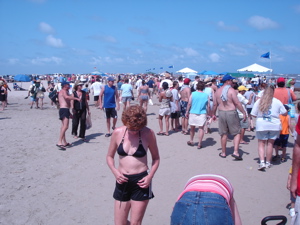 ---

Some fans set up fancy base-camps.

---

Rex Ross Web Site crowd control staff kept things moving along.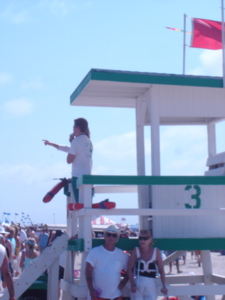 ---

Several celebrities such as "Hooch" from the movie "Turner & Hooch", attended.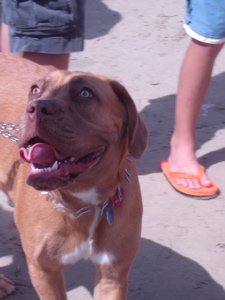 ---

Steroid Use in Sandcastles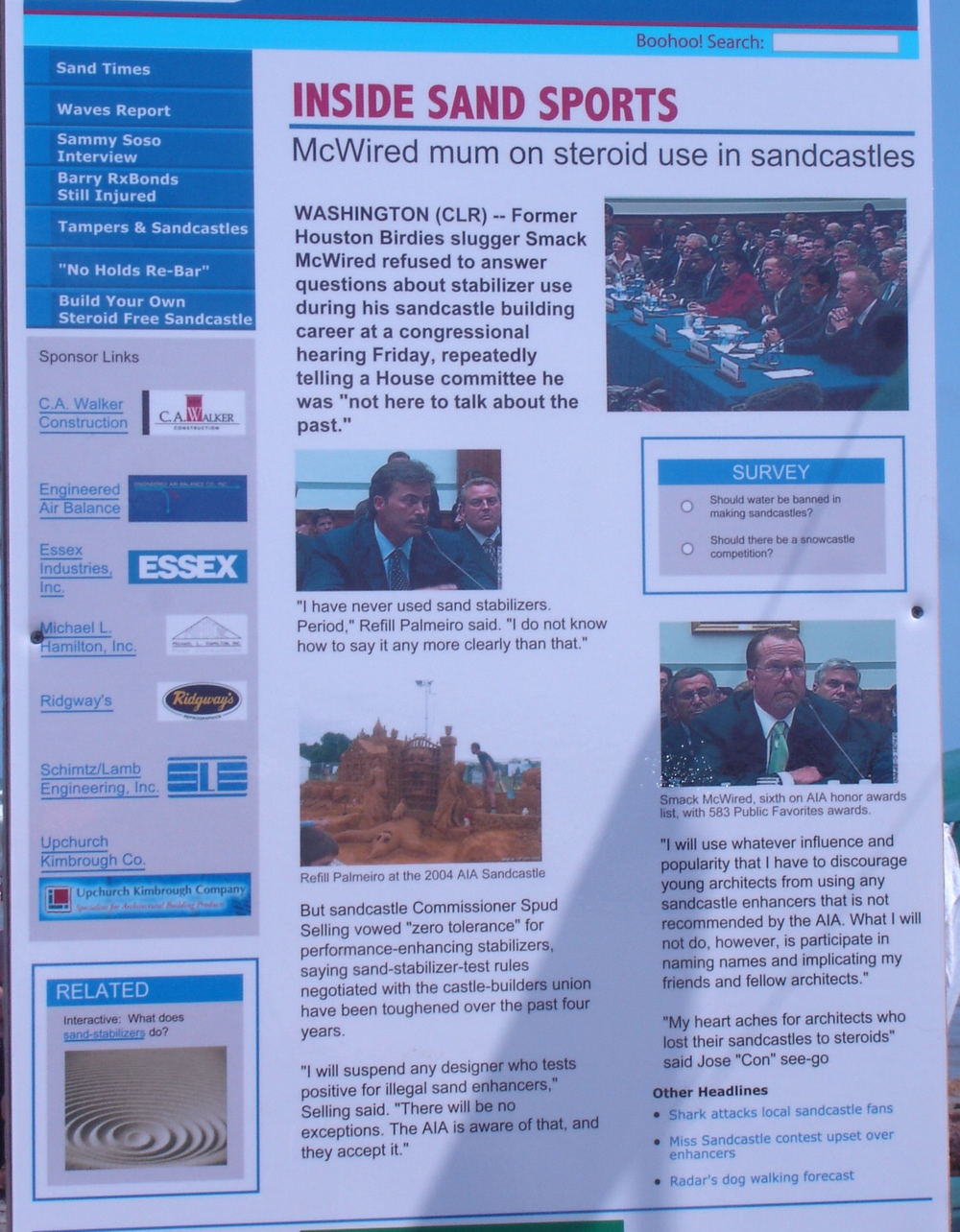 Sandcastle Not on Steroids (see above article)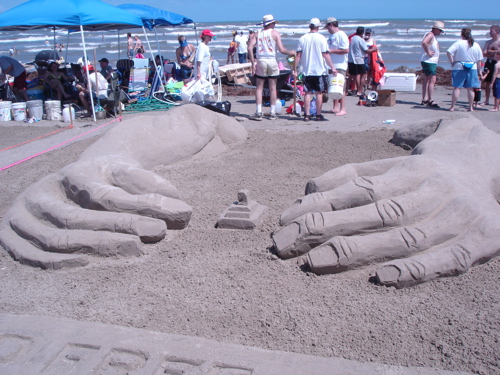 ---

The "Baseball, Mom & Apple Pie" entrywas popular.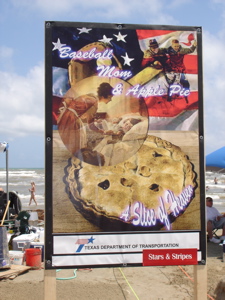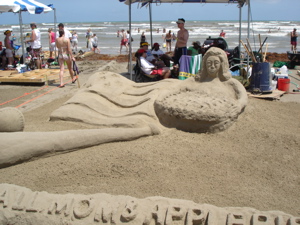 ---

Sandcrab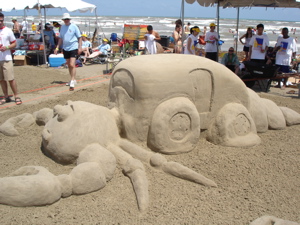 ---

There's a good story behind this one, but we have forgotten what it is.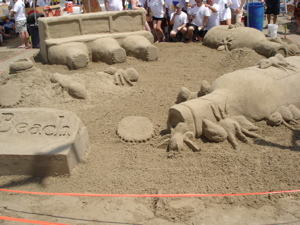 ---

Stars & Stripes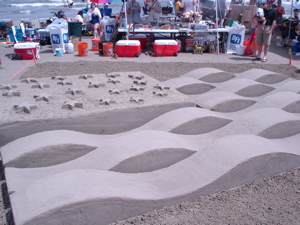 ---

The "Desperate Houseflies" entry.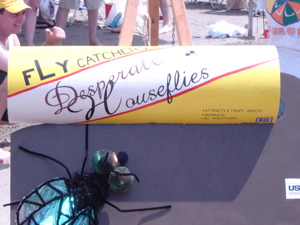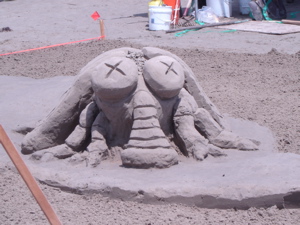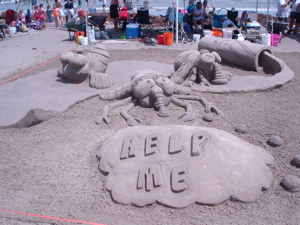 ---

"Car-Madillo"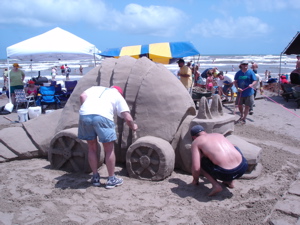 ---

The Old Man in the Sun.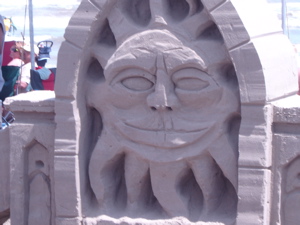 ---

"Hard Way to Earn a Buck"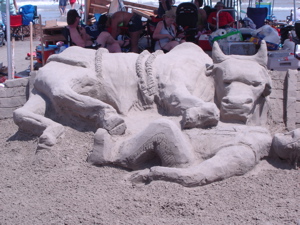 ---

A real Sandcastle.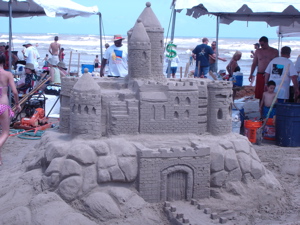 ---

The "Texas Hold'em" entry had some live action as well.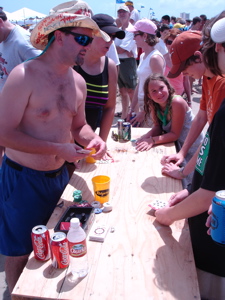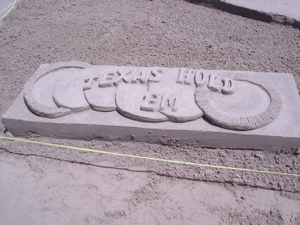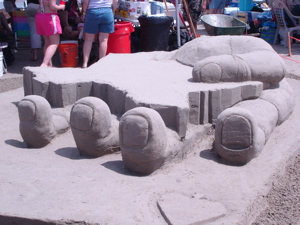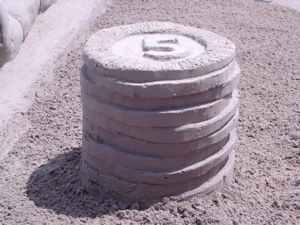 ---

"War of the Crabs"

---

"Sand Helsing"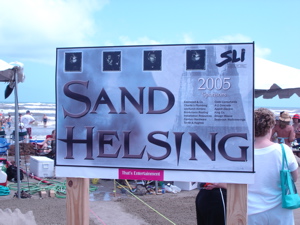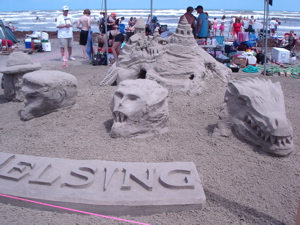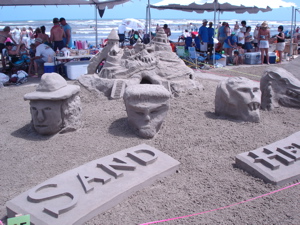 ---

Some sort of "Neverland" sandcastle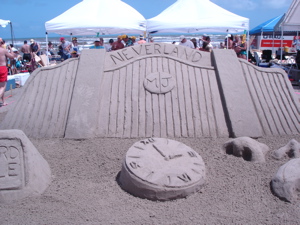 ---

"CSI: Crab Scene Investigation"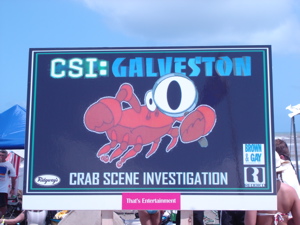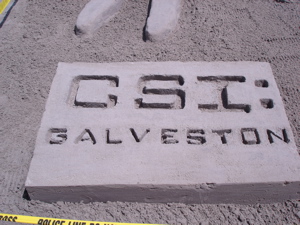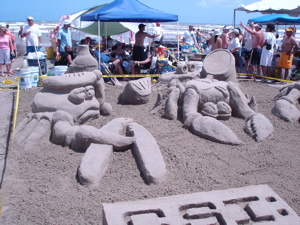 ---

The Rex Ross Web Site team has no idea what this one is.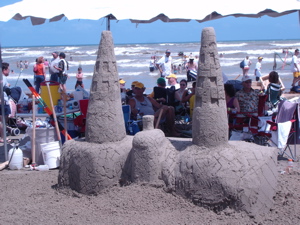 ---

The "Sanderbread Man"

---

Parking was at a premium for this event.

---

Even the space shuttle showed up as a surprise visitor.

---

"Finger Food"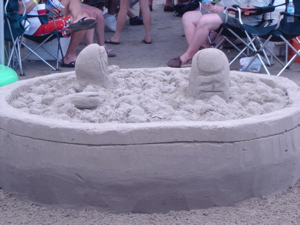 ---

This is the real, acutal model for the Galveston Jetty lighthouse built in the 1930's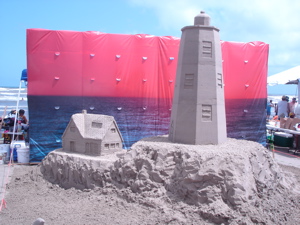 ---

"Jabba" shows up for "Sand Wars"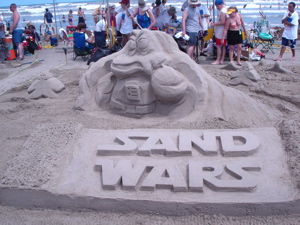 ---

Cat lovers enjoyed "Catillac Ranch"

---

The "Seashell Open" featured a golfer in a sand trap. It is not true that the Webmaster of the Rex Ross Web Site
served as a model for this sculpture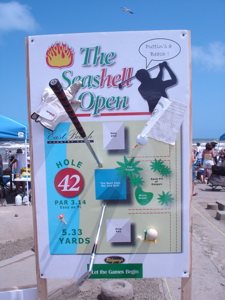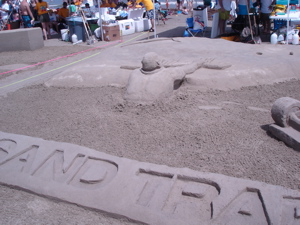 ---

Racecar Model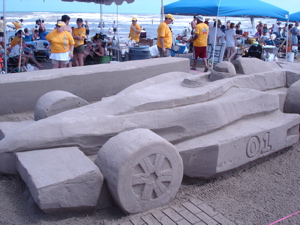 ---

Again, our web site team has no clue about this one.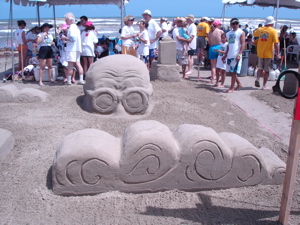 ---

Some of the Rex Ross Web Site workers.

---

A Suburban Sandcastle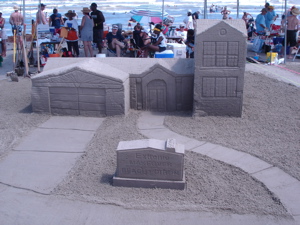 ---

Octopus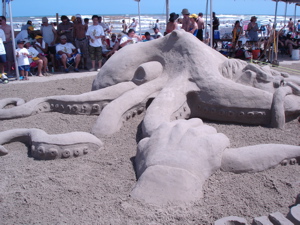 ---

A tribute to Ray Charles.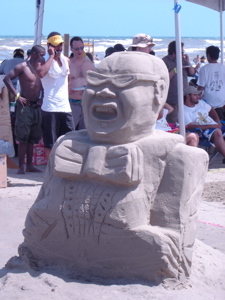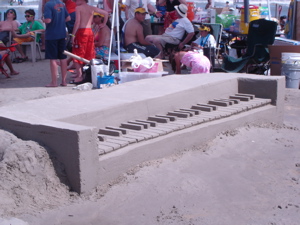 ---

"Catching Rays": Another Ray Charles inspired creation.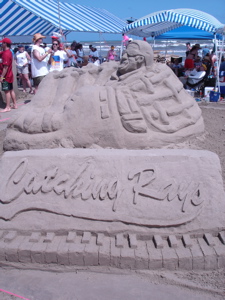 ---

"Mount 'Stromore"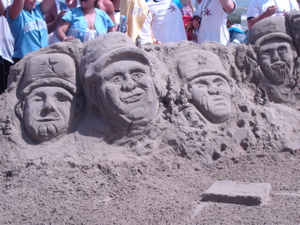 ---

"Joe Six-Pack"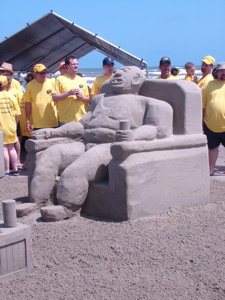 ---

"Chicken of the Sea"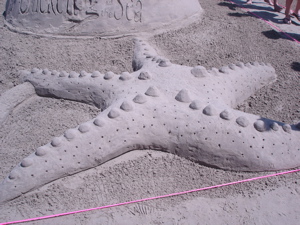 ---

This one was really spectacular!!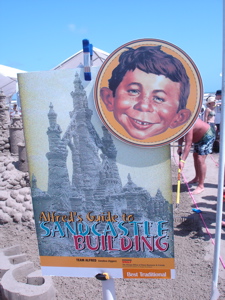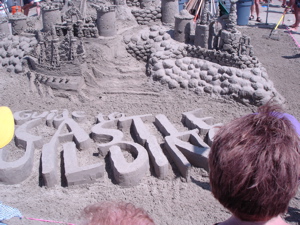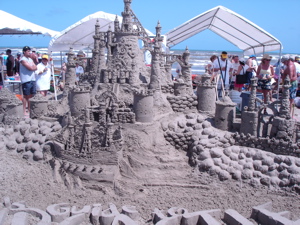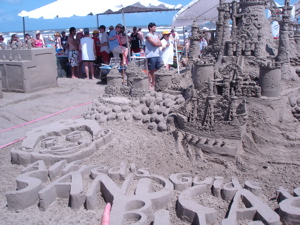 ---

"Sand Bar"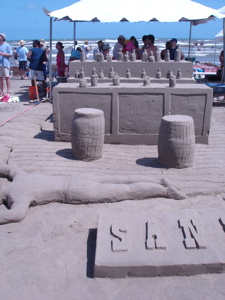 ---

"Underdog"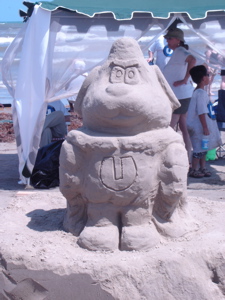 ---

The cast for the "Best Little Whorehouse in Texas" showed up for this entry.

From left to right: Dom DeLuise, Marvin Zindler, Dolly Parton, and Burt Reynolds.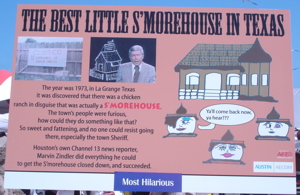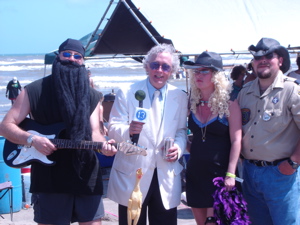 ---

"Hands in Sand"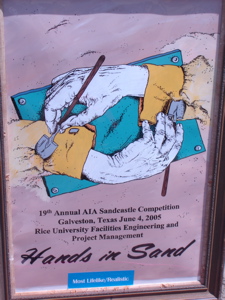 ---

Believe it or not, 37 crabs dressed in clown suits got out of this entry.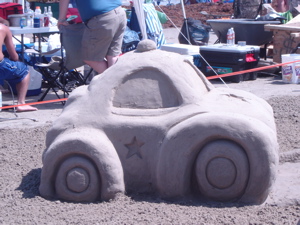 ---

"Bipolar Express"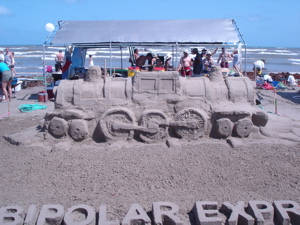 ---

Anybody have any idea what this is?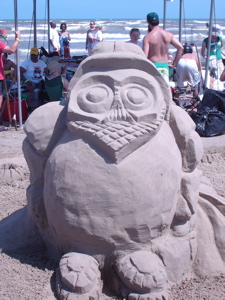 ---

The Rex Ross Web Site team entry.
Unfortunately, we were disqualified for using sand imported from Bermuda.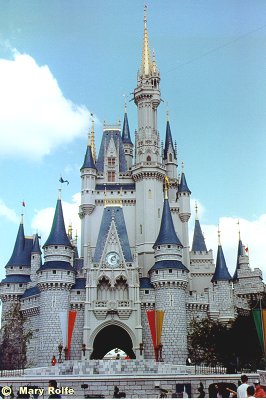 ---