Rex and Rosie traveled to Pirate's Beach in Galveston to view the arrival of Hurricane Claudette.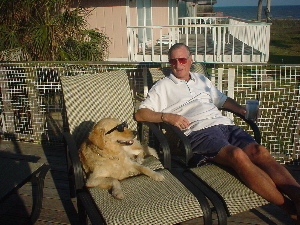 (Rosie & Rex shown in a pre-season hurricane season planning
conference)
The general time line was as follows: (photos follow this description)
jump directly to photos
Monday 3:00pm
Arrived at Pirate's Beach. Conditions were windy and the surf was up to the dune line. Claudette was being forecast as a minimal storm with a small tidal surge.

The storm was heading Northwest for Galveston, but all forecasts predicted a westerly turn with landfall well down the coast.
Monday 9:00pm
Winds rising. The storm had finally turned westerly but somewhat later than the forecasts had predicted.

This meant that the eye would come much closer to Galveston than originally thought.
Monday 10:00pm
Some consideration as to leaving Galveston was given, but conditions were still not too bad and traveling in the rising wind during darkness was not too appealing.

Rosie and I decided to stay.

Before heading to bed, I lowered all the electric storm shutters anticipating power loss at some point and not wishing to have exposed windows to the rising wind and flying debris.
Tuesday 1:35am
Power lost. This awakend me and a quick look outside the front door showed rising water. It was not clear what the levels would become, but high tide was going to arrive around 8am, making the problem worse.

Winds were rising rapidly and the house was swaying quite a bit.
Tuesday 6:15am
Finally it was getting light and I was able to review the rising water situation. A trip outside showed water much higher than anticipated. As it turns out, our lower slab has a somewhat higher elevation than the surrounding houses and while water was 3-4 feet deep in the streets, it was only about six inches deep on our slab.

However, winds were still rising and high tide and yet to come.
Tuesday 6:30am
I observed that the slab on our house was even higher farthest from the street, so I moved Adrian's car up as far as it would go.

Water there was only 2-3 inches on the slab and gave some room for the further rising tide.

Substantial winds were now constant with hail-like rain.
Tuesday 8:30am
The peak of bad wind and water conditions had been reached with not much further increase in the water level.
Tuesday 10:00am
Winds and rain continued strong, but the tidal surge was beginning to recede. The worst of the rising water problem was now past.

However, overall flooding was such that no chance of departure was going to be possible for several hours at least.
Tuesday Mid-Day
Rex and Rosie hike around the Pirate's Beach area observing the damage and general conditions. The water in some areas was deep to get through, but Rosie was up to the task.

We recovered our large wooden trash bin by floating it back up the street from where the storm surge had deposited it.
Tuesday Mid-Day
All power remained off and the house, with the storm shutters still closed, was quite dark.

Rosie's highlight of the morning was helping to dispose of several quarts of ice cream which were melting fast. (Vanilla was her favorite.)

Street flooding was subsiding, but departure was still not possible.
Tuesday 3:45pm
Street flooding had subsided such that departure was now possible. With no prospect of the power returning anytime soon, Rosie and Rex load up and depart for Houston.

We were able to observe a lot more substantial damage in some areas east of Pirate's Beach on our way out. Lots of debris remained on the highway out (FM 3005), but the water had receded.

A Happy Ending

It is clear that the dune-socks, saved some damage for the level of storm surge which was encountered, estimated at around 6 feet.

It is also clear that with a higher surge in a major hurricane, the dune-socks would present no challange whatsoever for a 7 to 15 foot storm surge with wave action on top.

We suffered no damage or significant problems at our beach house other than some water which the wind blew into the house under and around the front door. This caused no damage however.

It is not clear how the salt water will affect the new lawn we had laid 3 days in advance of Claudette, but we will see.

Certainly some beach erosion occurred and the sand dunes are a thing of the past for the present. The dune-sock system is there, but has serious damage.

Rosie and Rex were lucky it didn't get any worse.

Weather Data to Come
With the power lost, the full wind, rain and barometric record of the storm has not yet been recovered from my weather station.

However, as the weather station has battery backup operation, the full weather archive has been captured and I will publish some charts this weekend.

I can tell you from first hand experience, while it may not sound like much, standing in a 50 mph wind captures your full attention.