Christening the "Sea Cheyenne" in Singapore
On October 27, 2007 Adrian, as the Lady Sponsor of the Ship, christened the Sea Cheyenne as part of its commissioning
and launching from the Keppel Singmarine Shipyards in Singapore where it was built.
The Sea Cheyenne, the newest vessel in the Gulfmark Offshore global fleet, is the first of a new class of deep water
anchor handling, tug and supply vessels operated by Gulfmark.
The ship is 250 feet in length, with a beam width of 55 feet and a total depth of 24 feet. It has dual props, with full dynamically positioning capability.
---
The Video
---
Page Down For More Photos
---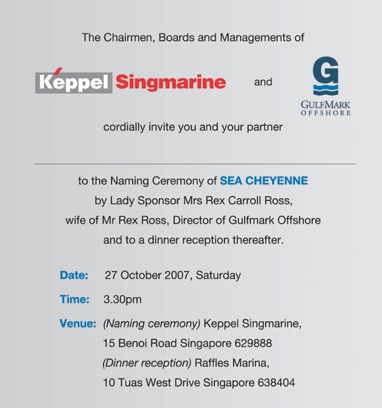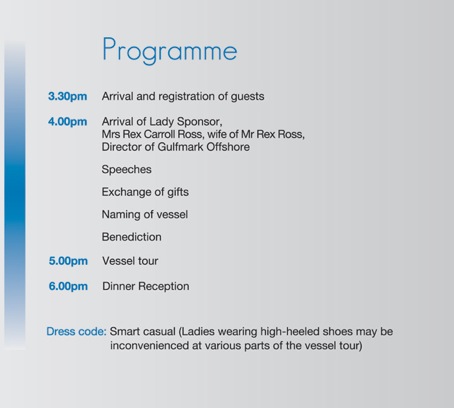 ---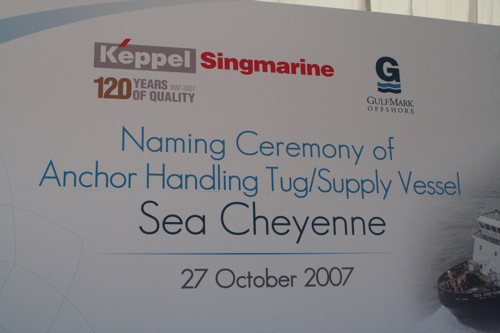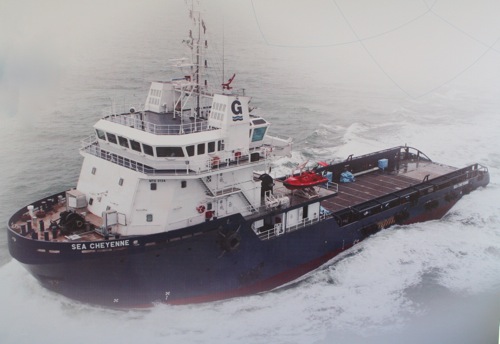 ---
Martin Watts, Gulfmark Managing Director in Southeast Asia welcomes everyone.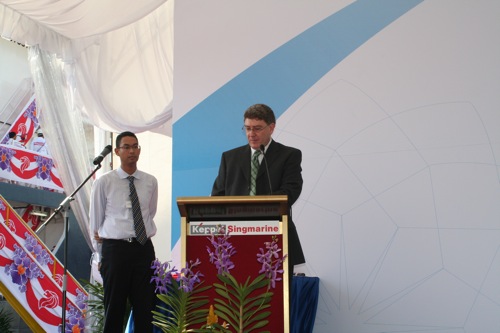 ---
Mr. C.B. Choo, Chairman and Chief Executive Office of Keppel Marine
and Offshore, also offers a welcoming speech.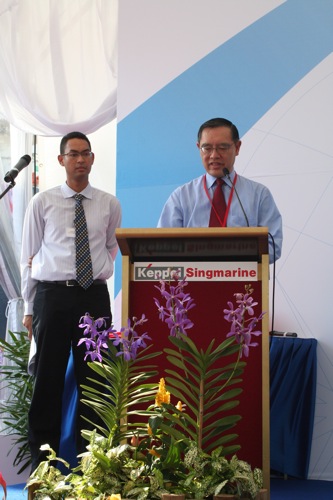 ---
Numerous Singmarine staff, suitably attired in "Texas Style" help show everyone around.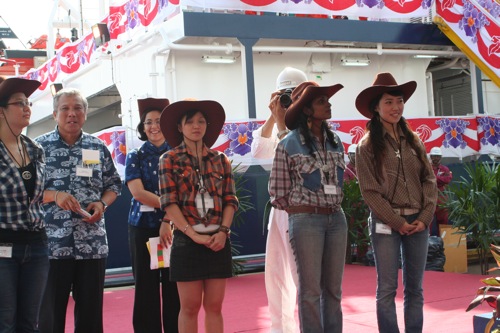 ---
Adrian gives the naming dedication speech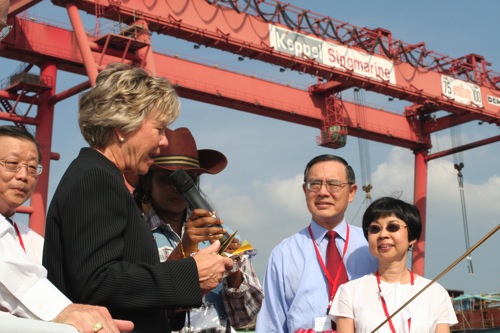 ---
Cutting the ribbon to the Champagne christening bottle.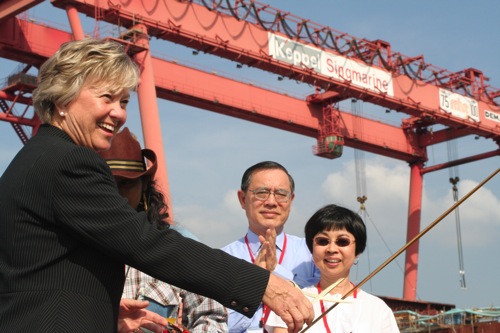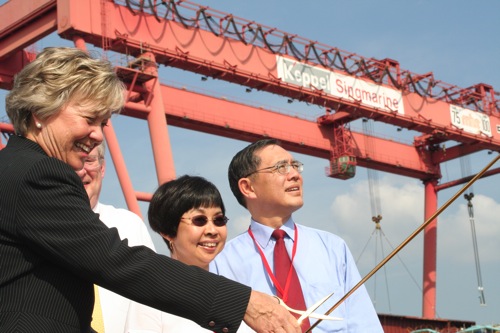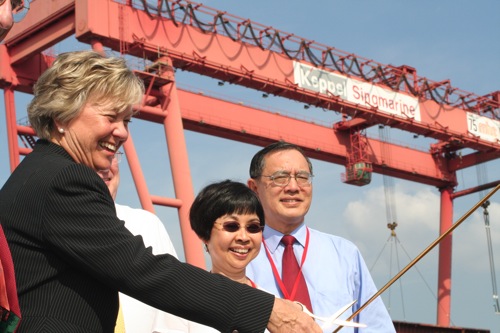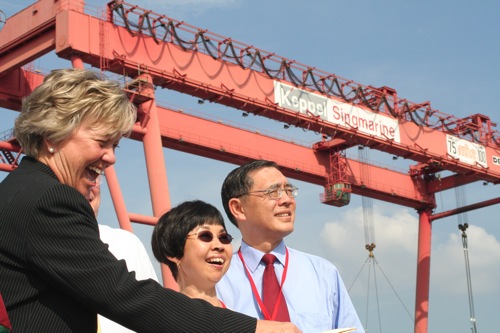 ---
A Successful Christening!!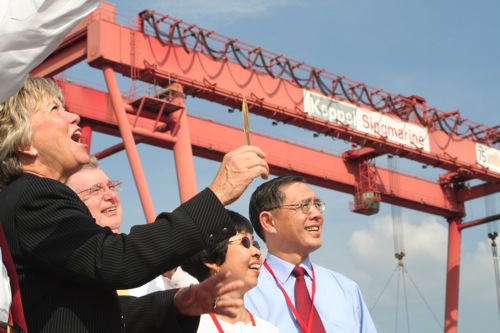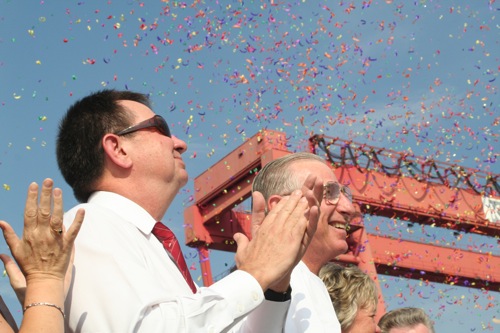 ---
The Captain of the Sea Cheyenne receives the ship's dedication plaque.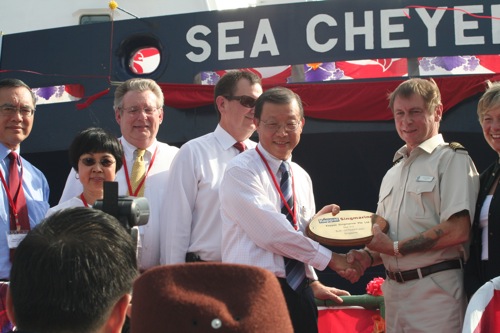 ---
Rex congratulates Adrian on a job well done.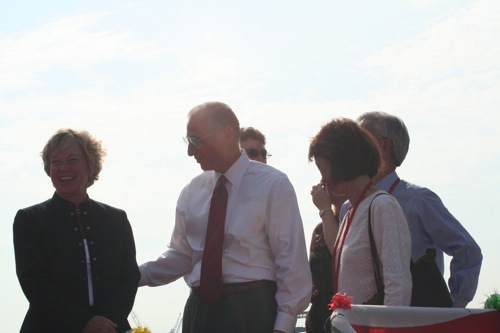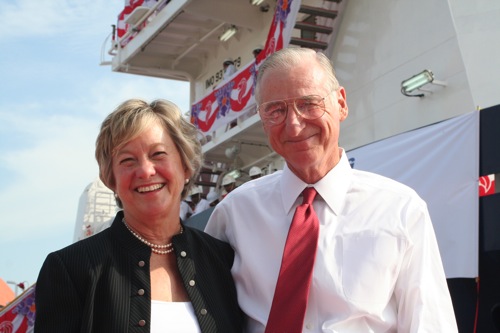 ---
Dragons dance to ward off any lurking evil spirits.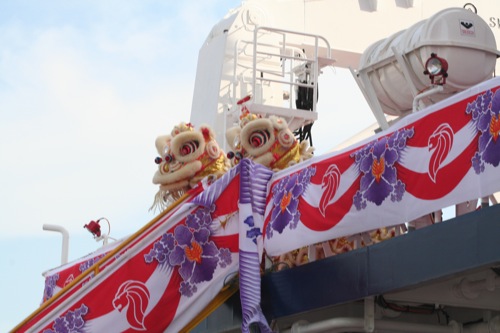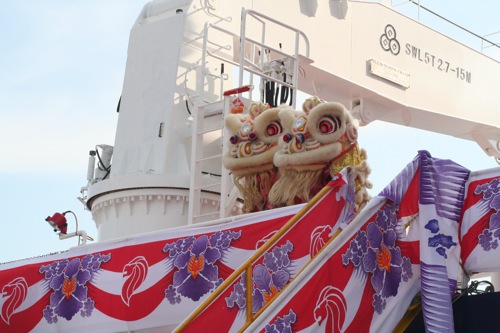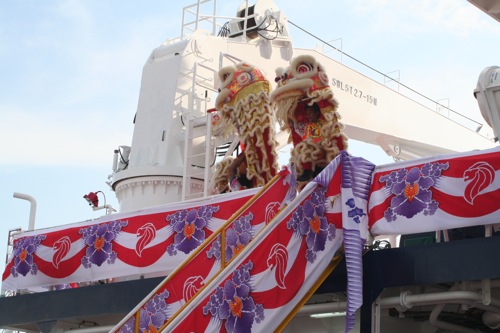 ---
Some of the crew watch the dockside events from the ship.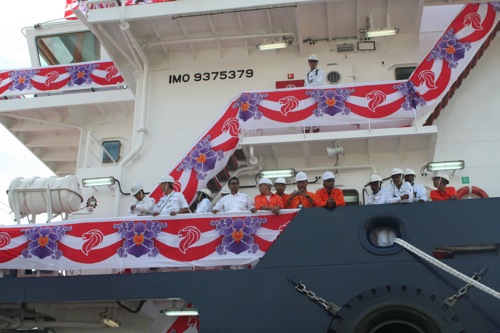 ---
Adrian boards the ship for tour of inspection.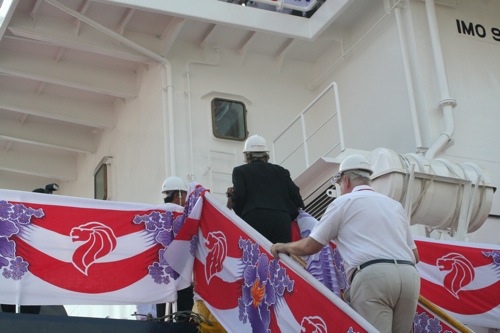 ---
Adrian tries out the station from which all working operations are controlled.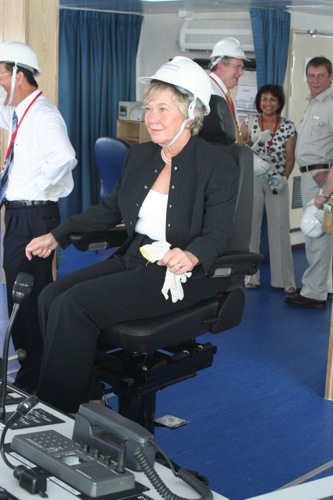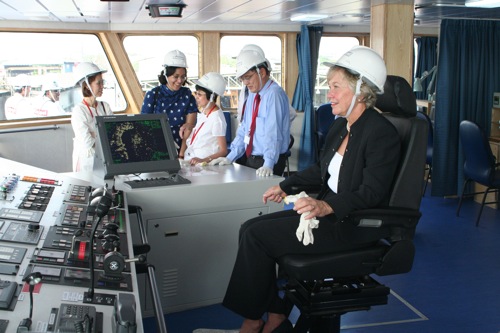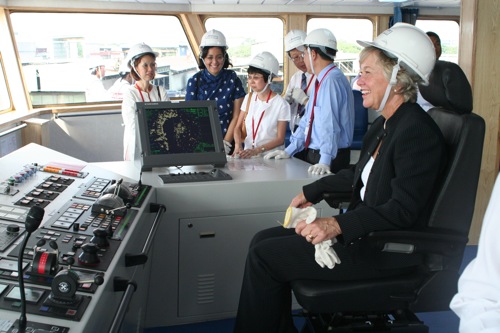 ---
The station on the bridge where the captain sits to control the ship when underway.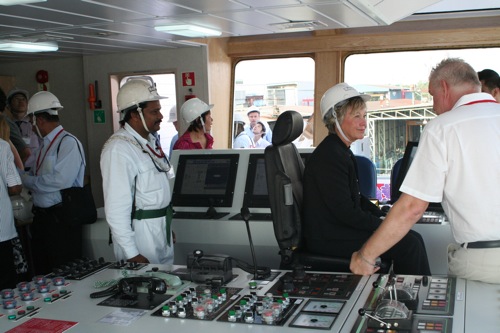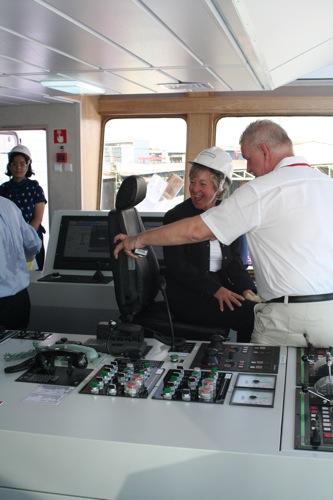 ---
Heading below deck for inspection of the engine and instrument control
center and the engine room.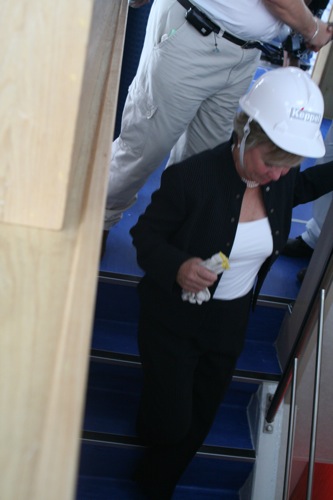 ---
All ship controls are electronic.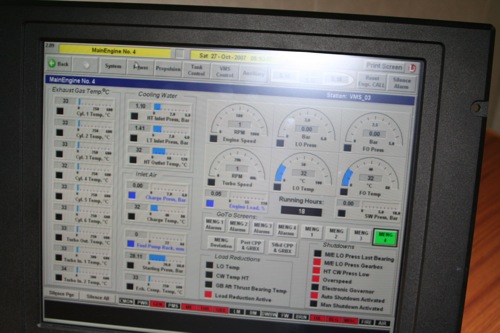 ---
Adrian inspects a valve which may need some adjustment.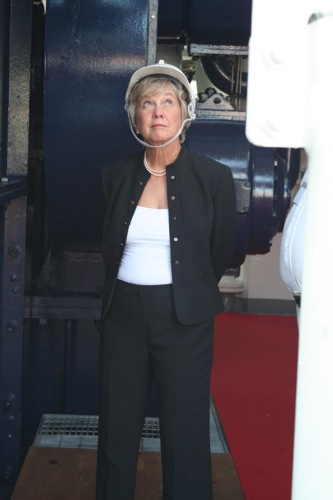 ---
The control and monitoring center.
All systems on the ship are electronically controlled. This center is where that monitoring and control takes place.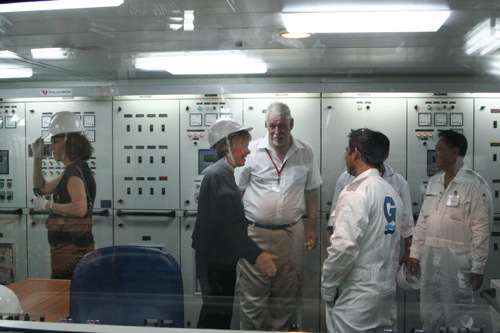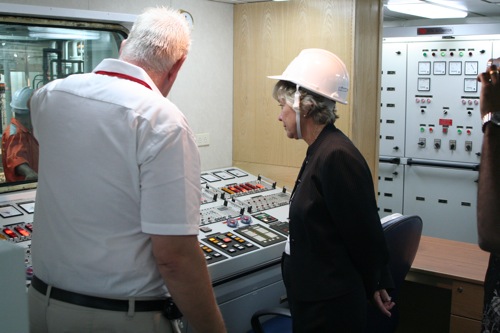 ---
Touring the engine room.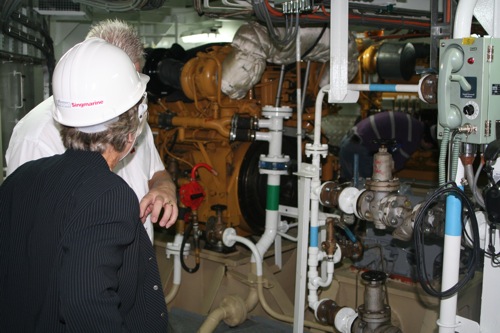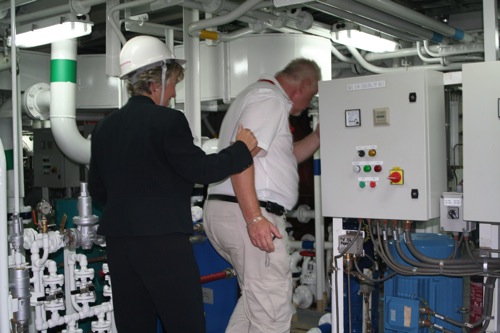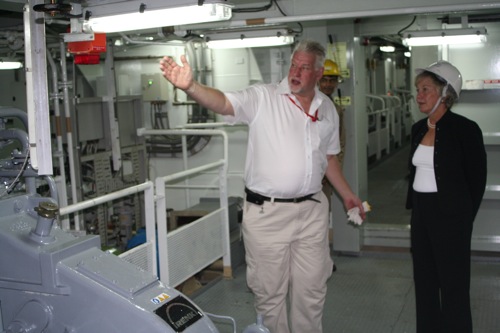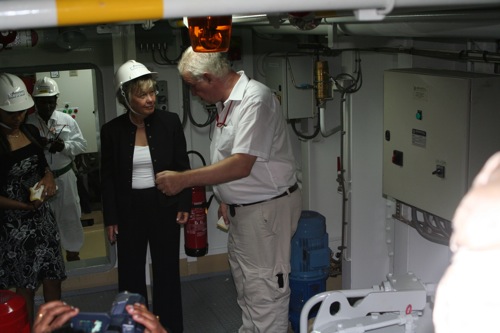 ---
Adrian climbs back to the main deck.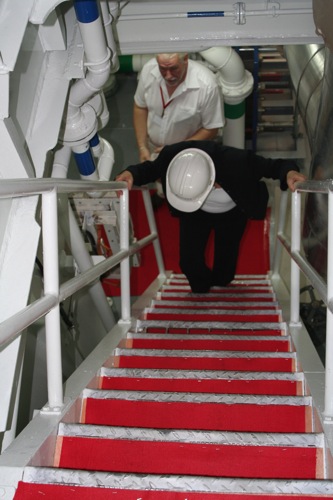 ---
The last part of the inspection moves Adrian to the working deck.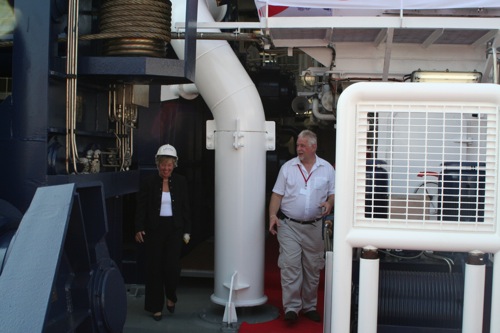 <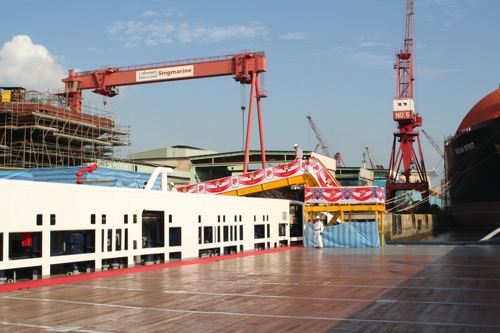 ---
Walking towards the stern of the ship. A look back towards the bow shows the large open work deck.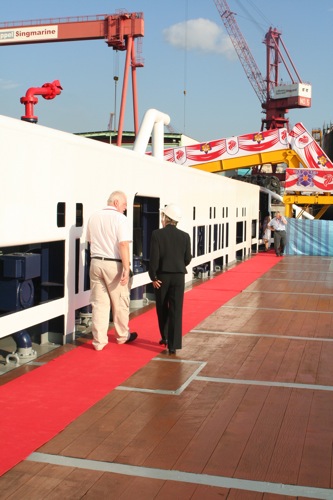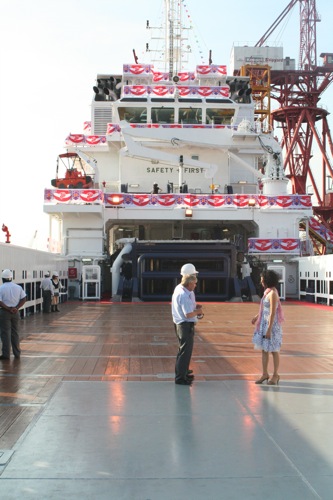 ---
Finishing the inspection tour with a peek over the stern.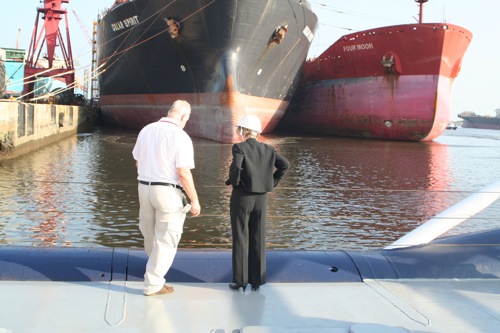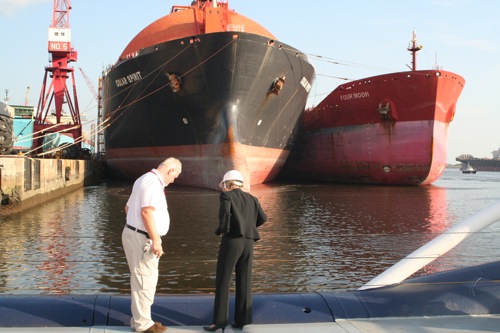 ---
Adrian declares "Her Ship" ready for sea duty!